Houses have always fascinated me, ever since I discovered–at the ripe age of nine–This Old House.  I'm talking about the original PBS television show, with Bob Villa and Norm Abram.  Back then, most of the homes undergoing renovation were in the vicinity of Boston, typical New England colonials.  I remember idly flipping through the seven channels on our television set one Saturday morning after Muppet Babies, and finding Bob and Norm hard at work, trying to convince a thrifty Yankee homeowner that she should splurge on wide-plank flooring in the addition to her pre-Civil War farmhouse.
I watched the entire episode, and the next Saturday, I was back for more.  And the Saturday after that.  And before long, I was hooked.  Not just for a few months, but for years.  I'm pretty sure my Saturday tradition of watching Bob and Norm renovate houses lasted well into my 14th year, when I began to sense that my TV habits weren't exactly normal for an American teenager.
My favorite parts of This Old House were the times when the cameras followed Bob Villa through the house–whether it was in the before stages of renovation, during the renovation, or to reveal the finished project.  Perhaps it was because I'd lived in the same mid-century ranch house all my life, but I was completely fascinated by the layout of those houses.  I began to keep a drawing pad next to me as I watched, so that I could try to sketch out a floor plan of the space.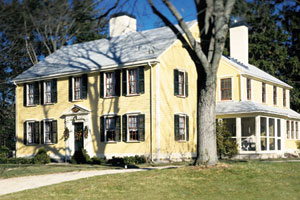 It wasn't long before I realized that the Better Homes and Gardens magazine that my mom subscribed to had floor plans in it, too.  Lucky for me, my mom saved each and every edition of all her magazine subscriptions, so there were literally years of BH&G's that I could comb through, looking for floorplans.  Before long, I'd figured out some of the basic architectural symbols:  doors, windows, plumbing fixtures, etc.
Since Bob didn't give a home tour on every episode of This Old House, I began using my drawing pad to sketch other floor plans.  I copied them from BH&G, or I would try to draw out the floor plans of the homes I was well acquainted with:  my home, my grandparents' homes, my friend's house down the street.  And, because Bob and Norm had helped me recognize that there wasn't a house on earth that couldn't use a few improvements, I always tweaked those floorplans just a bit.  Move a wall here, insert a window there, add second story….I had ambitious renovations planned for every house I'd ever entered past the front door.
There are only so many homes an 11 year old can get herself inside of, and so at some point I began running out of homes to draw.  I must have complained about this to my parents, because one Saturday, my father took me on a scenic tour of homes in Logan, Utah. It was a glorious adventure.  He'd pull up in front of a particularly interesting home, and point out different architectural features.  We'd guess which rooms were behind various windows, and I would make a few sketches.  I have to hand it to my dad–he knew where dozens of interesting homes were.  The grand finale of our home tour was the historic district of Logan, which was chock full of gorgeous homes in a variety of architectural styles.
That Saturday tour of homes with my dad was also memorable because when we returned home that day, he introduced me to graph paper.  And taught me how to draw in scale.  Both very handy tools when it comes to architectural renderings.
Even after I stopped tuning in to Bob and Norm on a regular basis, I kept drawing houses and floorplans.  I haven't ever stopped.  In fact, when I need a way to decompress at the end of the day, I pull out my graph paper and sketch out a floorplan.  My husband tried once to get me to use a fancy computer program to create my plans on Christmas, but I just couldn't give up my mechanical pencil and pale blue graph paper.
Oddly enough, you would think that my love of home design would have had me getting a degree in architecture.  I think my deadly fear of math got in my way, along with the fact that there wasn't really an architecture program at any of the colleges I could afford to attend.  I tried being an interior design major for a brief semester of college, but that ended in disappointment when I discovered that interior designers stepped in after the floor plan was designed.
Over the years, I've collected a stack of notebooks filled with home designs.  Every time we shop for homes, that stack grows.  Touring homes just fuels my imagination.  For most of the homes we see, I have several accompanying floor plans:  the original, the one I've improved upon, and the one that helps me figure out if our furniture will fit.  It's a dangerous hobby, actually, when paired with trying to select a home to buy.  And the fact that I have a handy husband with a healthy imagination of his own probably doesn't help.  We're shopping for our third house right now, and I don't think we've ever seen a house yet that we didn't think we could make better by tearing down a wall here, bumping out a window there, rearranging kitchen appliances, or exposing attic beams.
We're a realtor's worst nightmare.